Outdoor LED Lighting Services
#1 Award-Winning LED Lighting Design & Installation Company
The aesthetic, and most importantly, the value of your home will greatly increase by installing quality outdoor lighting. Illuminated Concepts is your leading outdoor lighting installation company offering world-class creative design and professional installation. Moreover, our superior customer service provides peace of mind when it comes to your exterior lighting. Our quality work is backed by our full warranty on select fixtures and a two-year warranty on bulbs.  Illuminated Concepts also offers LED repair services and options for all forms of outdoor lighting repairs.
As a full-service lighting contractor, Illuminated Concepts services encompass the mission to provide award-winning lighting design to all of our customers. Our landscape design company will assist you through every step of your outdoor lighting design. We offer creative talent for string lighting and patio lighting ideas to create a beautiful space to enjoy throughout the year. We also offer packages on outdoor lighting maintenance for dependable illumination.
Do you have an idea for exterior lighting? Let our landscape lighting designer assist with your outdoor lighting retrofits and outdoor LED installation.
FREE REPORT: Guide to Hiring a Landscape Lighting Contractor
*We will email you the free report.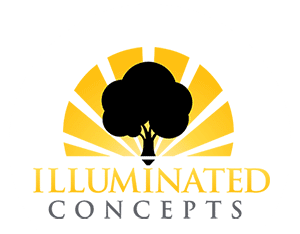 Landscape Lighting Simulator
Not sure what different outdoor lighting effects may look like? Try our new Landscape Lighting Simulator. Click on the image or button below to open the Landscape Lighting Effects gallery. See how accenting unique landscape and architecture can make a dramatic difference on a home's appearance and utilization.
You are a man of your word…. I do not like surprises. Your thought and careful planning made certain there were none.
Illuminated Concepts did an amazing job replacing and installing new LED lights on our property. Chuck's team is very caring and professional, ensuring every detail is covered! The lighting made our property look more high end then we could have imagined. We will be recommending Illuminated Concepts to all of our neighbors and friends so we can really light up the neighborhood.
I wholeheartedly recommend Illuminated Concepts. Chuck was great, he came up with a great creative and imaginative plan for the front and back of our home, price was fair, the installers did a wonderful job and the office staff was lovely to deal with. I can't say enough good things about Chuck and the whole team at Illuminated Concepts. The project came out perfect.
Blog
The Benefits of Installing Outdoor Lighting for Walkways  Most of us are familiar with [...]
The Advantages of Installing Outdoor Yard Lights Are you considering installing outdoor yard lights? [...]
The Benefits of Hiring a Professional to Install Outdoor Lighting Install outdoor lighting can [...]
Illuminated Concepts FAQs