Award Winning Outdoor LED Landscape Lighting Design Laguna Woods CA
THE LANDSCAPE AND OUTDOOR LIGHTING DESIGN PROCESS
Illuminated Concepts is the premier Laguna Woods outdoor lighting contractor. When we arrive at our initial landscape outdoor lighting consultation, we take notice of the unique and prominent features of the home.
Our designer will walk the property with the client and give many suggestions of creative lighting effects that will truly enhance the beauty and utilization of the property.
After the project walk through and listening to what our client's needs are, we will then come up with a creative, innovative design. This new outdoor lighting design will transform our clients home's nighttime atmosphere.
" We sell nighttime tranquil environments, not just fixtures."
We will then determine which of the following benefits will produce a dramatic nighttime transformation of their home and yard. Any reputable landscape lighting company will consider all of these elements when producing a quality landscape lighting design.
7 KEYS TO SUCCESSFUL OUTDOOR LIGHTING DESIGN.
1. LANDSCAPE LIGHTING INCREASES CURB APPEAL
Our clients are proud of their home and want its prominent features to be highlighted and not disappear into the night. We love to accent the unique architectural and landscape features of our clients' home.
Click here to see our Architectural Landscape Lighting Designs
With strategically placed light fixtures, we will accent such prominent architectural features such as columns, entryways, turrets, custom masonry work, 2nd story dormers and peaks, Large trees and color in planters.
"We don't just illuminate landscapes we enhance architecture. "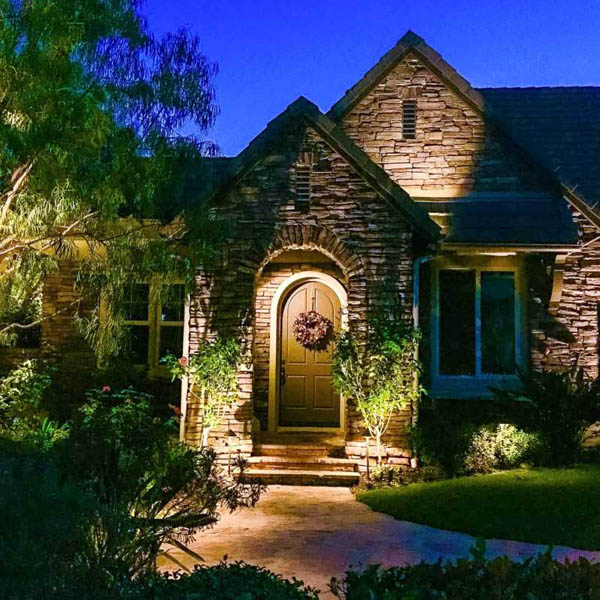 2. OUTDOOR LIGHTING INCREASES SECURITY
There is no need to have very bright and obnoxious glaring lights to improve security. A significant by-product of tastefully illuminating the unique landscape and architectural features is the added security of the home. No prowlers are about to go near a home that is well lit. Correctly placed lights fixtures can have 3 functions, beauty, increased security and safety.
3. LANDSCAPE LIGHTING EXPANDS INTERIOR LIVING SPACES
Interior transformations such as kitchens, dining rooms, glass windows , doors and living spaces can be enhanced outdoor lighting. This can create custom landscape paintings. By illuminating unique features outside windows and glass doors, the back and side yards can become and an extension of the interior living spaces.
A critical part of a landscape lighting design is how it is viewed and experienced from inside the house.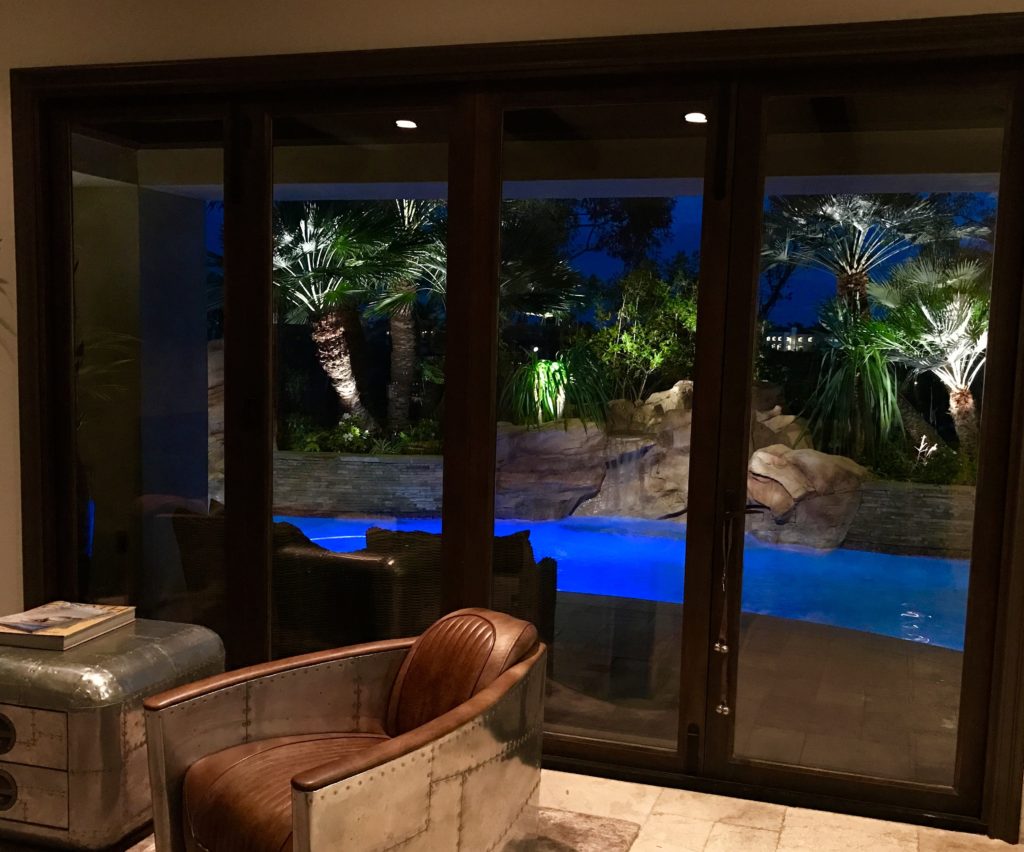 With the proper design and placement of landscape lighting fixtures, the landscape becomes part of the interior visual environment. These design elements are some of the most important parts of the outdoor lighting design. This must always be considered when designing a custom outdoor lighting system.
4. OUTDOOR LIGHTING INCREASES SAFETY AND REDUCES HAZARDS ON WALKWAYS AND STAIRS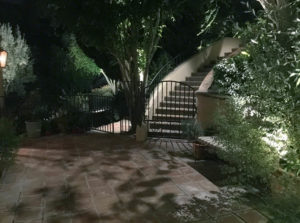 A well-designed landscape lighting system will increase the safety of the home and yard. Safety can be increased by eliminating trip hazards on steps and pathways. Also, tasteful area lighting can often be achieved with down lighting from the eves of the home or using the Moonlighting effect from nearby trees.
5. LANDSCAPE LIGHTING INCREASES UTILIZATION AND ENJOYMENT OF OUTDOOR LIVING SPACES.
Backyards have become an extension of the home. These extra living spaces are perfect for entertaining or just relaxing with family and friends. Fireplaces, Outdoor kitchens, BBQs, Fire Pits, and large screen TVs have become commonplace in larger residential landscapes.
With more attention and time being spent in the outdoor living spaces, outdoor lighting has become even more critical for full utilization and enjoyment of these exterior environments.
6. FREE real estate lighting
We have added many many acres of FREE REAL ESTATE to our client's property.
Many people buy their homes because of the beautiful landscape views and trees that are adjacent to their property. Large trees and slopes just beyond the property can be accented with strategically place fixtures from in their yard.
This specific outdoor lighting technique can dramatically increase the views and beauty of the outdoor living spaces.
"if its an outdoor visual asset in the day, it should not be lost at night."
7. Outdoor lighting control made easy
One of the biggest hassles of outdoor lighting systems is that the timers have to be constantly adjusted to time changes, power failures and daylight savings. A custom landscape lighting system should be easy to control and not need constant readjusting. The use of astronomical timers or lighting control modules connected to a smart home system can alleviate this frustration and hassle.
Durable and dependable lighting system
A quality outdoor lighting design must utilize premium lighting materials. Our lighting systems are designed with the finest of materials that will last many years. Brass, copper or stainless steel fixtures will never corrode and will endure the harsh outdoor environments. With the advent of LED lighting, there is no reason a quality landscape lighting system won't last 20 plus years.
Here is a map of our Laguna Woods Service Area:
A Tour Of Laguna Woods