String Lights
Bistro string lighting goes by many names such as cafe lights, party string lights, market lights, string lighting and globe string lights are all different names for basically the same outdoor lighting effect.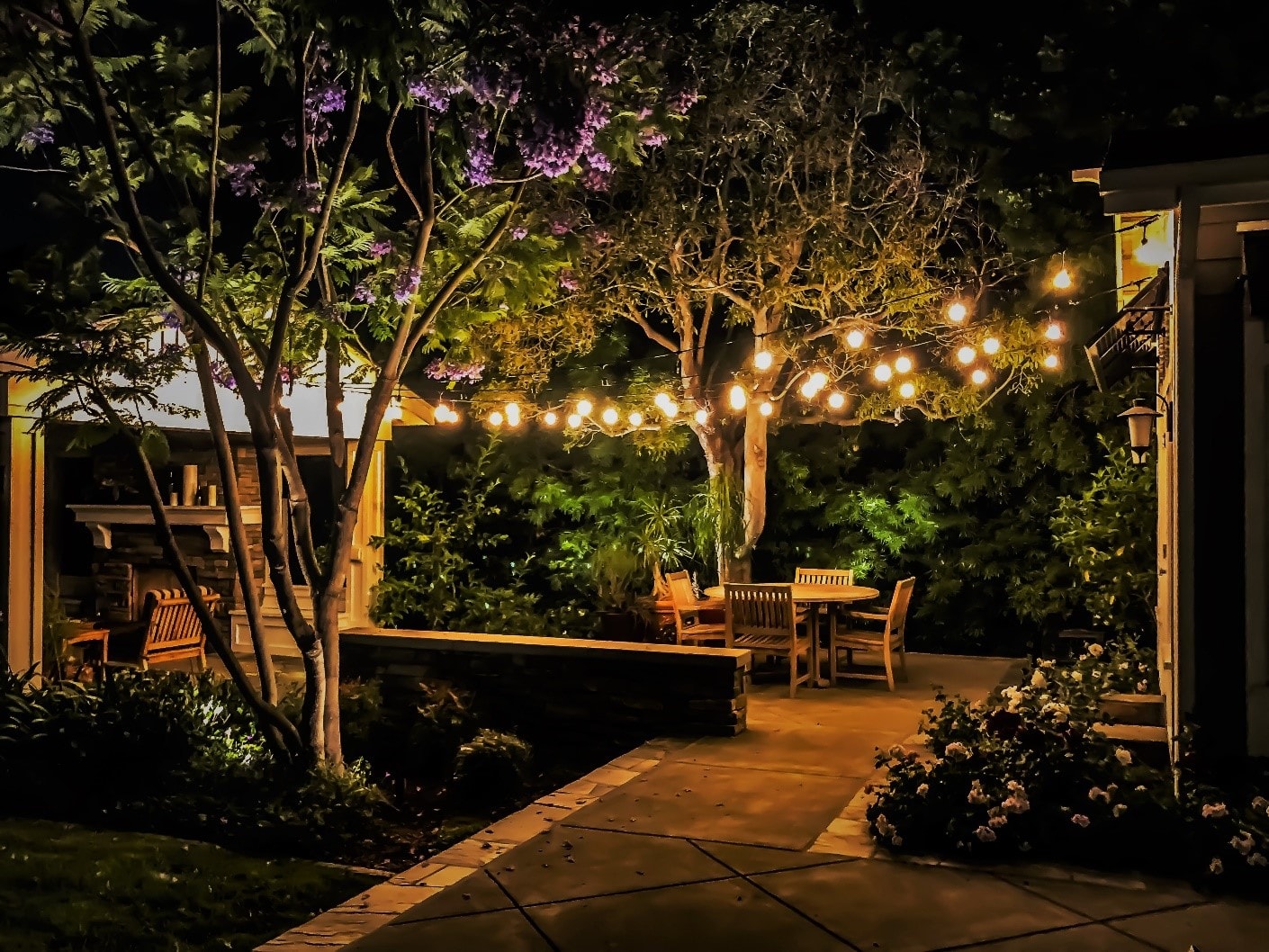 Bistro string lighting has become very popular in the most recent years. This type of outdoor lighting is a great way to add an ambient and festive effect to any outdoor area needing additional lighting. Bistro style string lighting provides soft illumination without the harsh glare that spot or lantern lights give off. It also creates a very festive look that adds ambience to almost any outdoor space.
The installation of Bistro style string lights is more complicated than many people think. It involves wire cables to support longer runs and usually some type of structural modifications such as poles or sturdy anchors into the side of a structure. "This isn't your moms Christmas lights".
Bistro string lights can be used in both residential and commercial applications.
For residential outdoor lighting, these String lights are often referenced as party lights. Party lights refers to the temporary use of string lights; however, if this lighting effect is to stay then permanent Bistro string lights should be installed.
This can be a great way to illuminate decks, patio areas and lawn areas that are used for entertainment, parties or family outdoor gatherings.
Sometimes it is a challenge to find adequate structures to install these heavy-duty string lights. Often, home owners think this is just like hanging outdoor Christmas lighting.
To safely add Bistro sting lighting to your outdoor entertainment area, it is necessary to have secure areas of attachment for the string of lights. This can be a limiting factor because there also needs to be a pleasing and appropriate pattern to the light strings.
Power for these string lights can also be a limiting factor. For many of our residential installations, Many times we use low voltage LED lights which creates a more flexible installation.
For commercial applications, Bistro string or cafe lights are used for creating a festive look. You can see these lights used in outdoor malls, Christmas tree lots, outdoor dining areas at restaurants, hotel outdoor catering areas or even for temporary events that general outdoor illuminating is needed.
The string lights for this use are usually heavy duty and designed to be outdoors all year long. The sockets spacing can vary. For short runs like small residential patio covers, a shorter lamp spacing is recommended such as 12″. If you have a small patio, i.e. A 10feet wide with 2ft lamps spacing won't be very effective. For longer runs, it is recommended that the larger lamp spacing be used. For long runs in a larger patio or commercial applications, a lamp spacing of 24″ to 36″ is recommended.
It is not recommended to use Christmas light strings to achieve the outdoor lighting effect if the lights are to remain installed for any prolonged periods of time. These types of lights are designed for temporary installation only, and the coatings on the strings will deteriorate from the sun's UV rays thus causing a potential electrical hazard. Any permanent outdoor wiring should be rated for outdoors and have UV protection on the cords.
Most heavy-duty string lights have a little eye-hook on the socket to attach the string of lights to a cable that supports the cafe light string span. A guide wire of a galvanized aircraft or stainless-steel cable is recommended that is. This cable is strong and will support the longer runs of string lights. It is best to use heavy duty UV zip ties to secure each side of the socket to the guide wire. Attaching these Bistro string lights to the guide wire cable is essential; especially if the lights are in the outdoor elements such as rain and winds. The guide wire will also help prevent the heavier light strings from sagging over time.
String light Patterns
People ask what type of pattern the Cafe string lights should be in. Usually, the existing structure or attachment areas dictates what pattern of strings can be installed. Also, power locations will often determine string lighting patterns.
If there is a broad span of structures that are parallel to each other, then usually parallel strings are used. Many times, power distribution is limited and we can only have 1 power source location. In this instance we use a fan-out pattern can be used when the structure allows, and it has an interesting effect. Different designs that are used are, Zig Zag pattern, Chris-Cross pattern, swag pattern, outline borders, and beams.
Bistro Bulb types
The bulbs are usually large and look similar to an incandescent house light bulb. They also come in an LED version which is excellent for long runs of the string lights. This style uses 80% less energy and the and lamps last up to 10 times longer.
Bistro lights or Market lights are now used in many shopping centers and outdoor malls. These string lights create a festive look to any outdoor space.
Cafe lights, String lights, Party lights, Bistro lights, or Market lights, no matter what you call it, this is a great way to add festive illumination to any outdoor space.