Orange County California's Outstanding Outdoor String Lighting Installation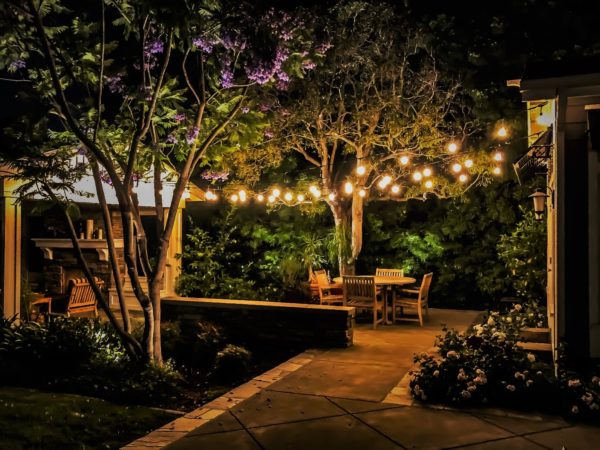 Whether you want to give your patio a french cafe touch or add a bit of intimacy to your home's backyard, outdoor string lighting provides a perfect combination of delicacy and warmth throughout the year. At Illuminated Concepts, we provide outdoor string lighting installation for commercial and residential properties across Orange County, California.
Explore a Range of Beautiful Home and Bistro String Lighting 
Many homeowners think that installing bistro string lighting is as easy as hanging up Christmas light displays. Properly installed bistro lighting needs to consider the power requirements and also the logistics of installation. Questions like: How many lights to run and what pattern of strings is effective.
We have 30 years of experience with running string lighting in a variety of settings, including outdoor commercial spaces, temporary events, and backyard patios. We also use low-voltage LED lights to ensure maximum flexibility on all of our installations. The results are stunning string light patterns that make the most of this decoration's aesthetic appeal without leaving your customer's put off. Our dedication to quality is how we continue to win awards and the loyalty of our customers.
Why Pay for Professional Outdoor String Lighting? 
Paying for a professional String Lighting installation may seem like an unnecessary cost until you realize all the benefits. Using a lighting designer to install your Bistro Lighting, you will be getting a safe and professional installation. A designer will maximize the beauty of your outdoor living space and give you the best design possible, installing it right the first time. You will get maintenance-free and worry-free lighting for years, turning your backyard into a dream resort. 
Discover the Appeal of Outdoor Lighting Today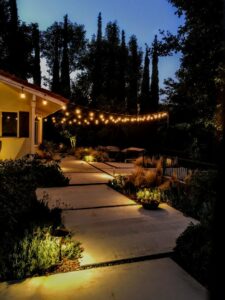 Hiring Illuminated Concepts means the top name in outdoor string lighting installation in Southern California will be working towards achieving your goals. To gain some great outdoor lighting and string lighting ideas or to ask about our professional installation services, call or email us today. (949) 455-9914
Check out our bistro lighting gallery for more inspiration HERE.