TRANSFORMATIVE OUTDOOR LED LIGHTING DESIGN FOR ORANGE COUNTY HOMES: 
THE AWARD-WINNING APPROACH 
Observing the unique details of a home is the first step in our outdoor lighting design process. From the dramatic architectural elements to the unique landscapes, our initial visit is all about understanding your home's distinctive features.
Our designer takes a collaborative approach, walking through your property with you, exploring creative lighting possibilities that amplify your home's unique beauty.  Also, increasing the function and utilization of outdoor living spaces for your family to enjoy is of utmost importance in a professional landscape lighting design. 
Drawing on your aspirations, our experts will craft an original, inventive design that transforms your home's nighttime ambience.
"We craft tranquil nightscapes, not just supplying fixtures."
Delving deeper into the design, we identify and implement these seven key benefits that culminate in a stunning, secure, and efficient nighttime transformation of your home and yard. A hallmark of a distinguished landscape lighting company lies in the adept balance of these essential design elements.
At Illuminated Concepts, we treat every home and yard like a blank canvas. We are strategically painting light to accentuate the amazing features and create dramatic and romantic environments. 
Our designers firmly believe in customizing each project to maximize beauty, safety, and security while increasing outdoor living utilization. 
There's nothing cookie-cutter about what we do; we pride ourselves on delivering unique lighting designs that perfectly complement each space. With our passion and expertise, we aim to transform ordinary outdoor areas into extraordinary ones, using lighting as our artistic tool that brings them to life.
10 KEY ELEMENTS TO A SUCCESSFUL OUTDOOR LIGHTING DESIGN FOR SOUTHERN CALIFORNIA HOMES AND ESTATES
1. ENHANCING CURB APPEAL WITH LANDSCAPE LIGHTING
Our clients take pride in their homes and desire to accentuate their unique features rather than allowing them to vanish into the darkness. Through strategically positioned light fixtures, we illuminate outstanding architectural aspects like columns, entryways, turrets, custom masonry work, 2nd story dormers and peaks, large trees, and vibrant planters.
"We don't just illuminate landscapes; we accentuate architecture."
2. BOOSTING SECURITY WITH OUTDOOR LIGHTING
Effective security need not be synonymous with harsh, glaring lights. A well-lit home deters intruders, adding a layer of security as a valuable outcome of aesthetically pleasing illumination. When positioned correctly, light fixtures serve three purposes: enhancing beauty, improving security, and ensuring safety.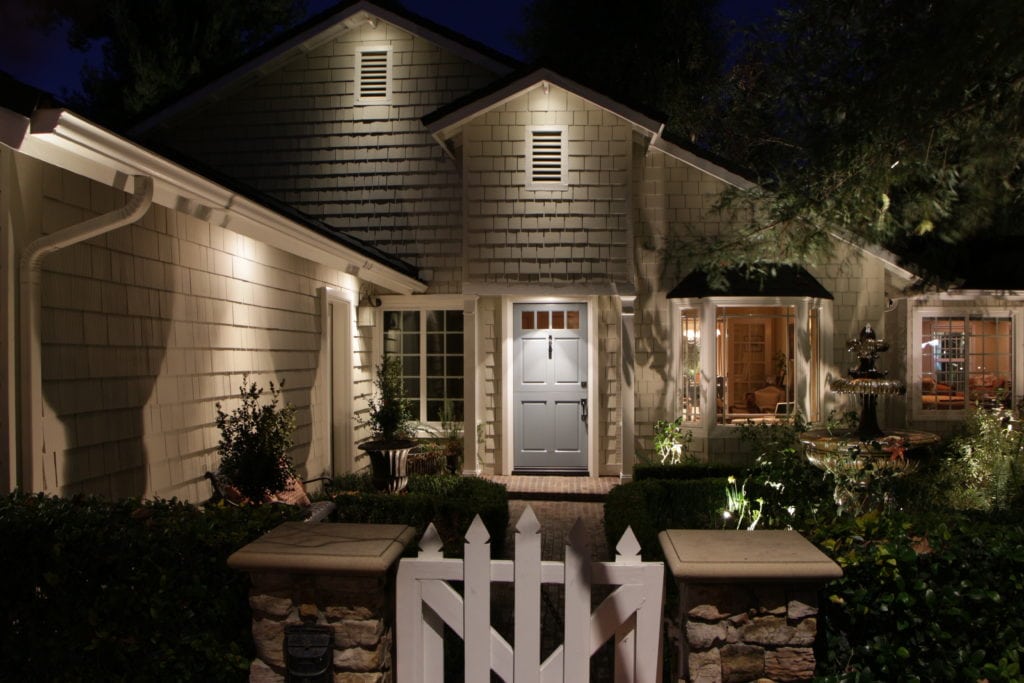 3. EXPANDING INTERIOR LIVING SPACES WITH LANDSCAPE LIGHTING
We call this "Inside out lighting" . Landscape lighting can dramatically extend and enhance interior spaces. By lighting up unique features outside windows and glass doors, your yard can seamlessly blend with your interior living space, creating an expansive visual environment.
A landscape lighting design's success significantly depends on how it impacts and enhances the interior views within the home.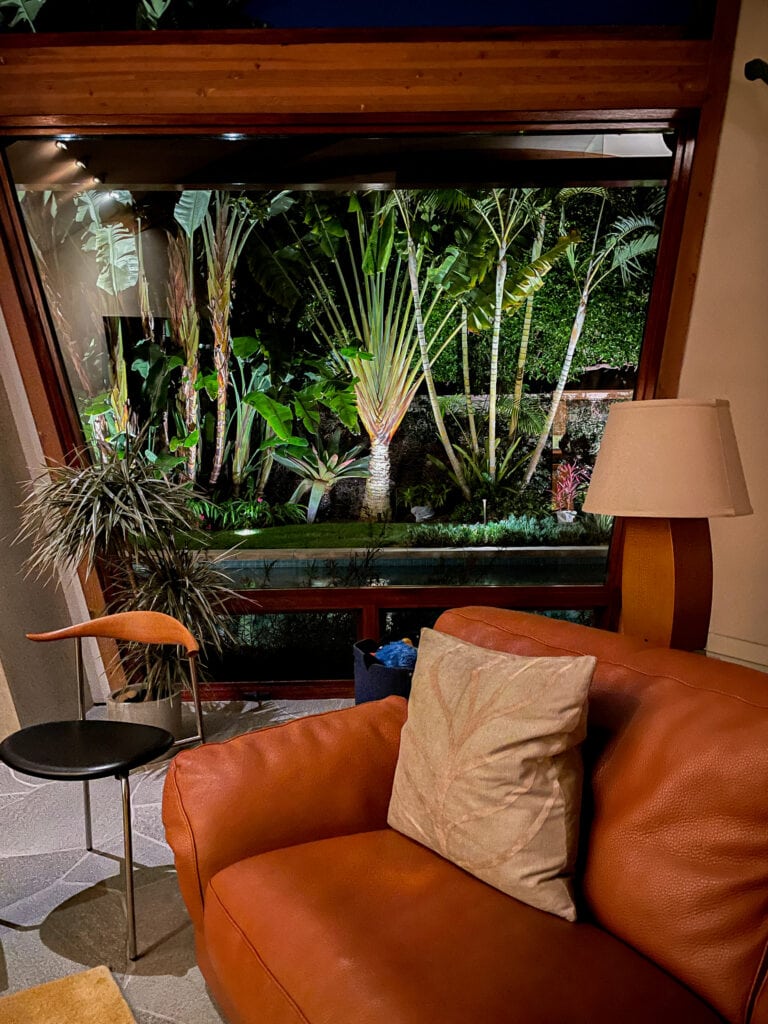 4. IMPROVING SAFETY AND REDUCING HAZARDS ON WALKWAYS AND STAIRS  WITH OUTDOOR LIGHTING
A well-devised landscape lighting system can significantly enhance the safety of your home and yard. By illuminating steps and pathways, potential trip hazards are mitigated. Moreover, the application of tasteful area lighting, often achieved through downlighting or moonlighting effects, can further boost safety while creating a magical envirnment.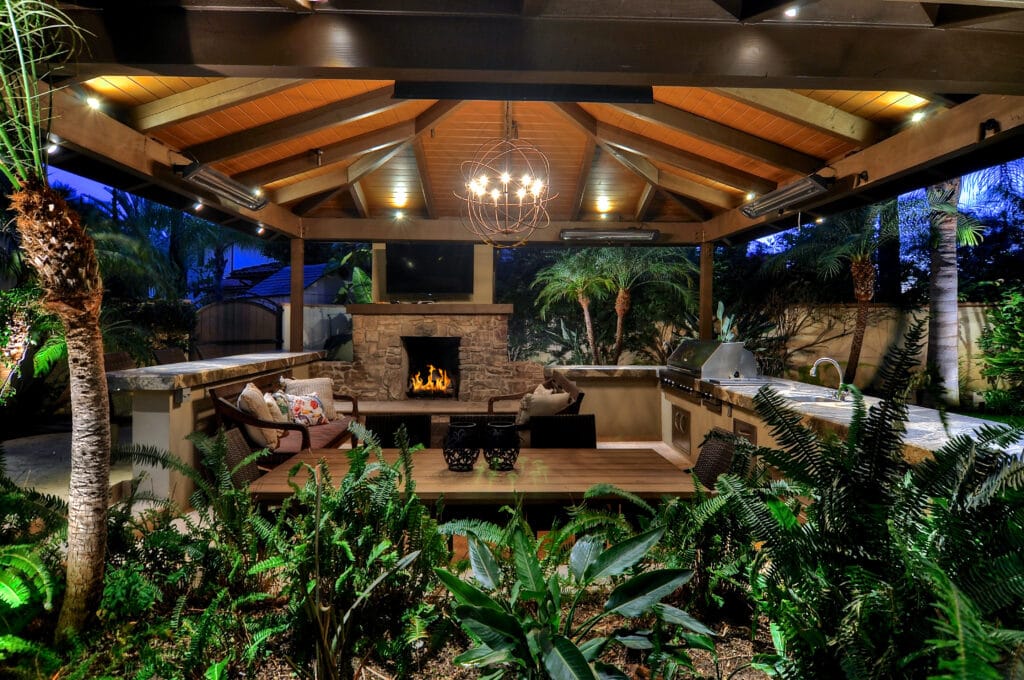 5. EXTENDING UTILIZATION AND ENJOYMENT OF OUTDOOR LIVING SPACES WITH OUTDOOR LIGHTING
The backyard is an extension of your home, an additional living space ideal for relaxation or entertaining with family and friends. Illuminating these exterior environments, especially those featuring patio tables, firepits, seating areas, fireplaces, outdoor kitchens, BBQs, is vital for their full utilization and enjoyment.
6. EXPANDING REAL ESTATE WITH OUR "FREE REAL ESTATE LIGHTING"
We offer the illusion of extending your property by skillfully lighting up adjacent landscape features such as large trees and slope areas. Very often our clients have purchased their home because of amazing  views that extend beyond their property. This specific outdoor lighting technique can dramatically enhance the views and beauty of your outdoor living spaces. Our clients really love this lighting effect.
"A daytime visual asset should not be lost in the night."
7. Landscape lighting can significantly contribute to increasing safety in several ways
Illumination of Pathways and Steps: Landscape lighting can be used to illuminate walkways, driveways, stairs, and other high-traffic areas to prevent falls or stumbles during nighttime hours. Clear visibility of these areas helps reduce the risk of trips or falls, especially in challenging weather conditions or for elderly visitors or family members.
 8. SMART OUTDOOR LIGHTING CONTROL
A well-designed landscape lighting system should be hassle-free and easy to control. By integrating astronomical timers or a lighting app on your smartphone we ensure that lights will go on and off when you want them to. No more outdoor lighting randomly turning  on and  off  or crawling in bushes or under BBQ reset the timers. Making many seasonal adjustments due to time changes,  power failures, or daylight savings are a thing of the past.
9. RGBW LIGHTING, ADD COLOR AND FLAIR TO YOUR HOME AND YARD
Adjust the lighting color scheme according to holidays or special occasions. For example,  special themes during holidays , red green and white for  Christmas, Red white and blue for 4th of july, orange for Halloween, even team colors for game night. During the rest of the year your lighting can go back to classic warm accent lighting.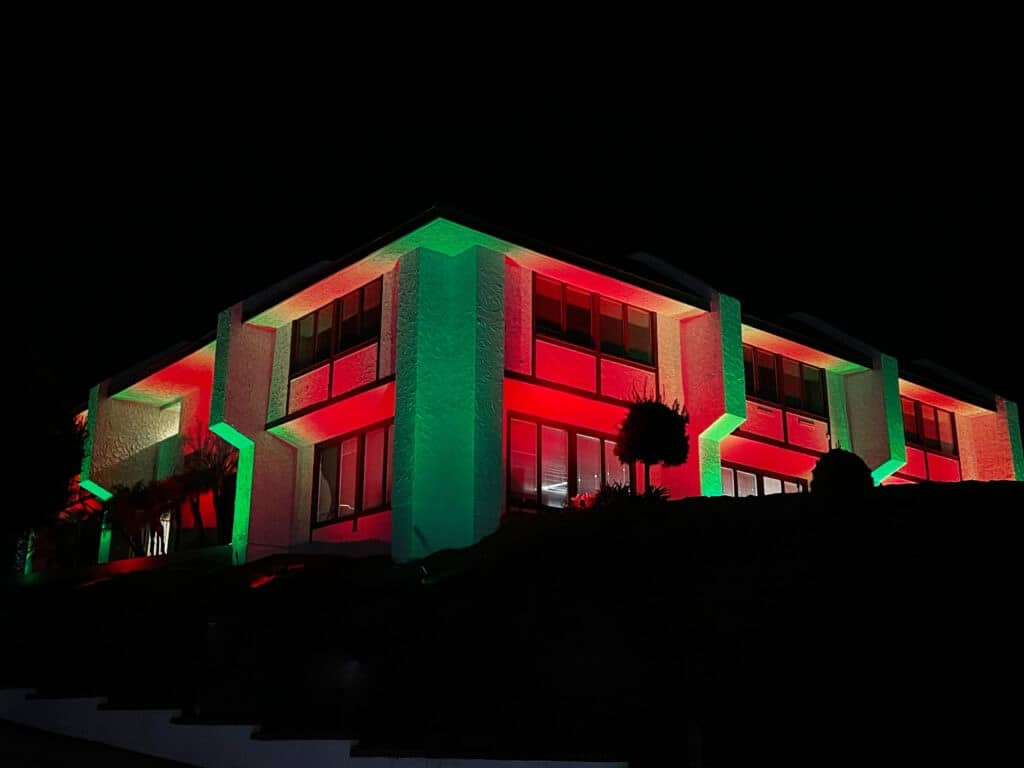 10. OUTDOOR AUDIO, YOUR YARD NEVER SOUNDED SO GOOD. 
Enhanced Ambiance: Outdoor audio can significantly improve the atmosphere of an outdoor space. From quiet, relaxing background music to a more upbeat playlist for parties, the right audio can set the mood for any occasion. All this can be controlled from your smart phone