Installation & Repairs
The professional landscape lighting crews at Illuminated Concepts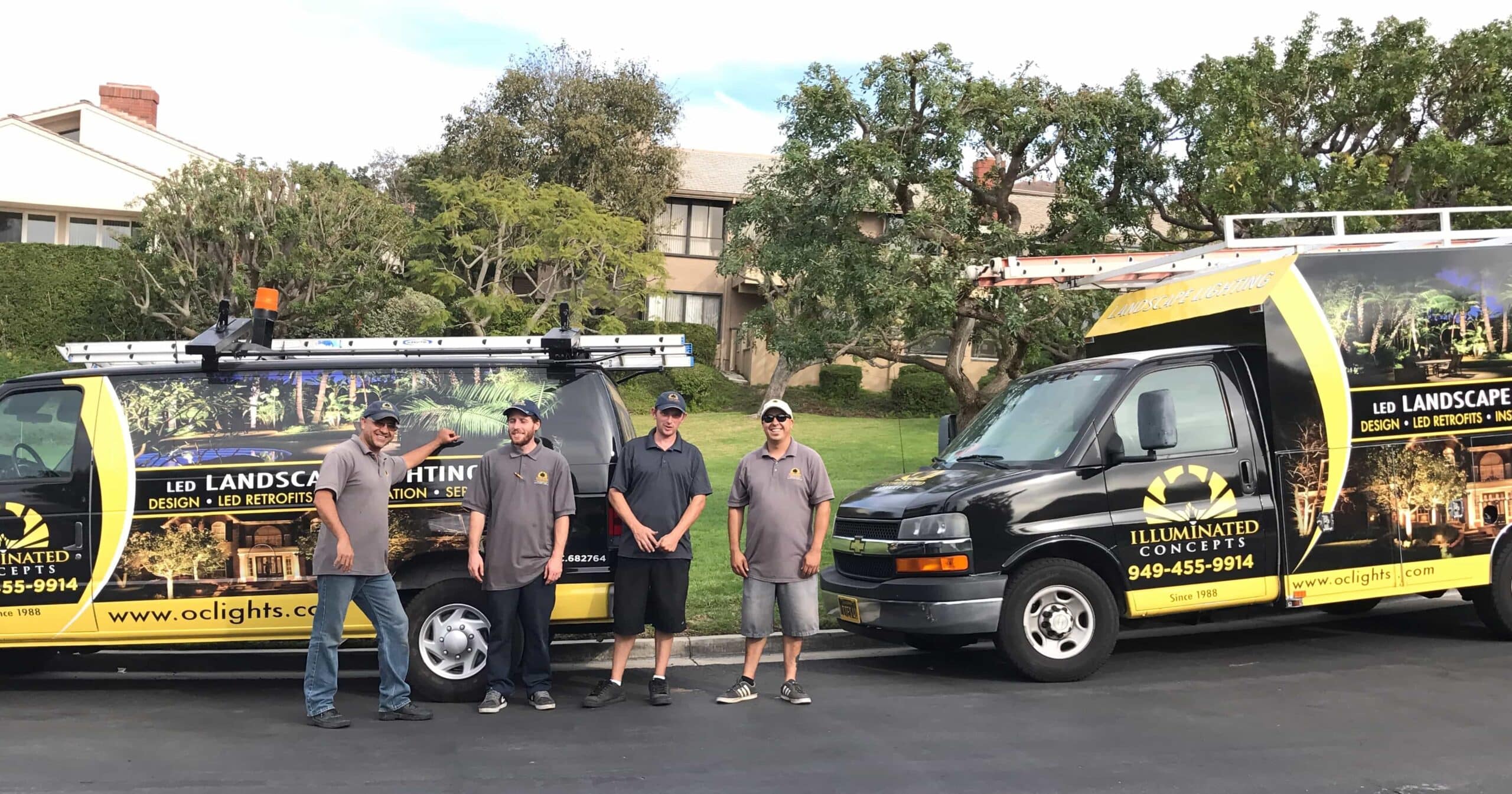 Landscape Lighting Installation, Maintenance for homes in Orange County and Southern CA
The professionals at Illuminated Concepts Inc. have years of experience in the professional installation of exterior and landscape lighting systems in Southern CA. With the same philosophy for lighting for hotels, conventions and large gatherings our philosophy is, the lighting should just happen. We make every attempt to cause minimal disruption of the landscape and structures. With low voltage and LED lighting, rarely do clients even know where the wiring has been installed.
To ensure You have a quality landscape lighting installation that will last for many years and not disrupt your home and yard.
Our lighting fixtures are made of heavy duty brass that won't corrode, unlike aluminum and steel fixtures. Most of our fixtures have a lifetime warranty.
We use copper crimped and sealed connectors to ensure durable permanent connections at each outdoor lighting fixture.
We bury landscape lighting cable 6-8 inches in the soil.
We cause minimal disruption to existing plants, lawns and structures durring our professional installation process.
Our outdoor lighting systems are bulletproof and will give you many years of trouble-free enjoyment.
Outdoor lighting repairs and maintenance for Orange County estates and homes
To keep your Landscape Lighting system performing and looking like the day it was installed it is essential to have regular outdoor lighting maintenance performed. Illuminated Concepts is the leading  Orange County landscape lighting contractor and offers service contracts which include, replacing burnout bulbs, cleaning fixtures and glass lens, refocusing and adjusting fixtures to compensate for plant growth, gardeners disruption, checking and adjusting timers. Illuminated Concepts also will repair and LED lighting retrofit upgrades to an existing landscape lighting existing systems.