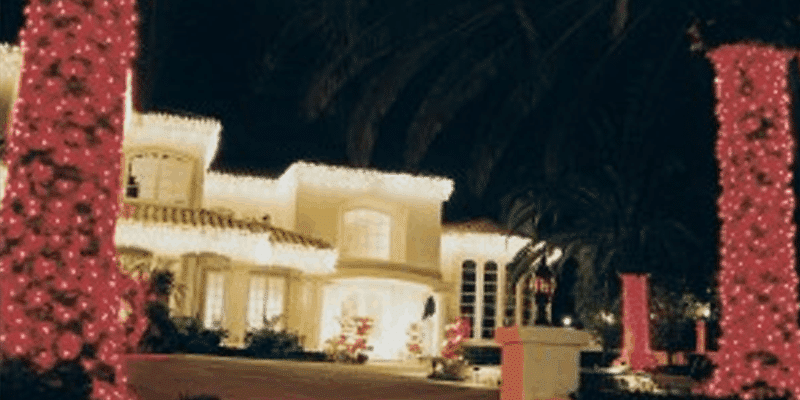 How to have great Christmas Lighting , 5 great tips for Orange County homes
Orange County Christmas lighting project

Planning Christmas Lighting Instalation for Orange County
Over the last 20 years, Orange County Christmas lighting  has become an art form. Christmas lighting is not just large multi colored c-9 bulbs strung across the front of the house. Now with the advent of  digital timers, controllers and LED lights the design options are endless. In this article I will mainly focus on some basic Christmas Lighting considerations that can make a home look  inviting for guests and fun for the kids. The following tips are a guide in process of having a successful Holiday lighting for all to enjoy.
1. OC Christmas lighting with a purpose
Decide who is the lighting intended for? Many times my clients want to have their home look elegant and festive for their Christmas parties and or family coming in from out of town for the holidays. For holiday guests and parties, lighting on the front of the home creates the most impact.However if  the primary purpose for the Christmas lighting is for the children, colors and sparkle add to their excitement of the Christmas season .
2.Design- What type of Christmas lighting design should I have?
The front of the house is always the main focal point and create the most dramatic effect . Accenting the eve lines of a home  and around windows and doors can often achieve this effect. To broaden the over all Holiday lighting scene, trees and bushes can be sprinkled with mini lighting creating an winter wounder land. The front door and entry area are vital areas to consider because this is where guests and party goers enter the home. Having wreaths and Garland with lights draped around the front door make any entry way look warm and inviting.
If your having holiday parties you should also consider what can be viewed form inside the house . Adding  clear mini lights on trees, bushes will add a more festive look from inside the home. Using large clear c-9 lights on patio and deck areas can also create general illumination for festive outdoor enjoyment . The biggest benefits  illuminating back patio areas is you can enjoy the holiday look of the Christmas lights all season long. The magical look doesnt disappear as soon as you enter you house.
If Christmas lighting is primary for your children colored lights seem to give that extra dazzle that kids enjoy. Also lights in motion and animated figurines create an added magical experience for children during the holidays.
3. Christmas lighting safety – Safety first
Don't ruin your holidays with injury or fire.  The two main risks of injuries are caused by falling of roofs or ladders during the installation.  Improper electrical practices may also cause fires. These two thing alone cause many injuries and deaths per year. In
juries can be avoided by utilizing common sense and following the guide lines of  the proper use of ladders. The ladders all have labels on their proper use and limitations. Never stand on the top rungs of any step ladder or extension ladder. Always make sure that the ladder is on solid level ground. Never install in wet conditions .
For electrical safety basics you should  follow the limitations and instructions on the box of lights. Make sure the lights are UL approved for exterior use. It is very important to not put too many lights on any string of lights , extension cord, timers or adaptors. Before you connect any of these it is essential to know the electrical limitation of all component of your Christmas lighting display. If using staples be VERY careful to NOT put a staple through any lighting or electrical cord, this can cause dangerous electrical shorts. Shingle and gutter clips are a good way to avoid this problem.
4. Orange County Holiday lighting installation .
After having some basic ideas its time to plan for installation time. The Holiday lighting season is generally  from Thanksgiving to New Years Day. I always suggest to get the lights up early to guarantee full use of Christmas lights. When using a professional lighting service it is very important to commit early before their schedule is full. What I always say is you can have the lights installed before Thanksgiving but you and turn them on any time after that.
5.Orange County Christmas lighting  Removal
January 1st is normally when the Christmas lighting displays are deactivated and removed shortly afterwards. In Orange County many HOAs require Christmas lights be removed shortly after the 1st of the year.
The removal of lights is much easier than installation but still can be dangerous if not performed in a safe  manor. When wrapping the strings of lights start with the female plug end so that once the string of lights is coiled up it can be easily plugged in and checked the following season .
These are some basic guidelines to get full enjoyment  your Christmas lighting in Orange County, We also creatively design and install LED landscape lighting. This can also add much value and utilization to your home and yard. Outdoor lighting can truly transform your home or estate into a mini-resort. For any other questions on Christmas lighting  or any other exterior lighting ,just call Illuminated Concepts Inc. at 949-455-9914. We are  located in Orange County in  Laguna Hills CA . also visit  visit us on the web at www.oclights.com
Orange Counties Cities Served by Illuminated Concepts Inc.
Rancho Santa Margarita ,San Clemente San Juan Capistrano,Santa Ana, Seal Beach, Tustin,Villa Park Landscape Lighting,Westminster Landscape Lighting ,Yorba Linda, Irvine , Aliso Viejo ing, Anaheim ,Anaheim Hills , Brea , Buena Nellie Gail Ranch , Park vista ,Coto De Caza , Trabuco Canyon , Ladera Ranch ,Telga , Costa Mesa ,Cypress , Dana Point ,Emerald Bay ,Fountain Valley ,Fullerton ,Garden Grove Huntington Beach , Irvine,La Habra ,La Palma , Laguna Beach ,Laguna Hills Laguna Niguel Laguna Woods ,Laguna Niguel , Lake Forest , Los Alamitos ,Mission Viejo Landscape Lighting ,Newport Beach, Newport Coast ,Orange Landscape Lighting ,Placentia ,OC Landscape lighting and OC Christmas lighting provided in these postal codes
92688, 92675, 92690, 92691, 92692, 92694, 92679, 92637, 92653, 92654, 92656, 92677, 92607, 92653, 92656, 92698, 92672, 92673, 92674
By Chuck Evans